The hunt for my daughter PT 6 Bad news Bear.
Ok After the last place I ended up I was a little afraid when I got out of the portal. No nothing but a nice swamp planet. No naked Hercule or Yajorobie , Thank God. Storm Cutter went a little crazy, and flew to these . Scrolls.
At first I couldn't read them, Then the became clear English I think it's trick of the sword. They're all talking about an alien race called Fawnlings. Then behind me I hear a growl, and see this.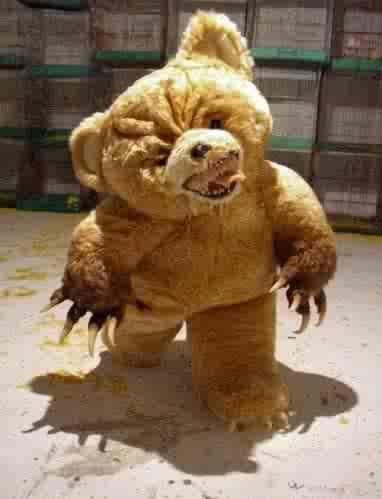 " I know Woo! Your the hawlf saiwin."
" And you have a speech impediment Teddy bear . " I laugh "What do you want?"
" I wawnt to kiiwll woo!"
" BWhahahahhahahahahahahahahahahahahaha!" I'm sorry I couldn't help it .I've never been threatened in baby talk before.
It jumps me and scratches through my armor. Well ok. It's not so funny any more. P punch the damn thing off it charges again. " Woo gowwna gewt it! " It shouts.
" Get this!" I answer. " Buster Cannon!" It runs out of the Holocaust. All it's fur gone. Now I see it for what it really is a robot. I dodge a swipe it made for a head then I throw a Burning Attack.
It jumps out of the blasts way , and I kick it's head off. I crush the body And yell " Briefs Once again! Undisputed champion of the world! Haaah Haaah! The crowd roars for Original and still the best Trunks! "
"Woo Suwck!" the head shouts.
I pick up the head " Alas poor Teddy bear I knew him well! He was a fellow of infinite mispronunciation!"
I hear clapping from the behind me . " Dude encore encore!" It was Son Goten. " Yeah more Shakephere should be in fights to the death!"
Ok that was embarrassing. I crush the head. " Goten what are you doing here? Trying to get me home so I can chase down more heroes? Well it'll have to wait."
Goten shakes his head." Naw Dog the war is over , we lost, well Ok I won, since well, I switched sides long story Any way the Registration thing is over. Have you found Justice yet?"
I slap my fore head at this question, Poor Goten, I mean , he just doesn't think sometimes. " If I had would I still be out here? Look Do me a favor alright go back , and tell Vampi I'm alive , Justice is still alive. But she won't stay on a planet long enough for me to find her. "
" Look man I can help..." He starts to say.
" I'm getting close kid." I interrupt " Besides If I know my little sister, she wants you back ASAP. I'll be fine by myself."
That and I don't want Goten screwing up like he has since he joined SHIELD. Then again maybe I'm being to judgmental ,I mean Wonder man is no where within light years of here. He usually only screws up when Simon shows himself.
The problem is this is personal , and I want to handle it myself.